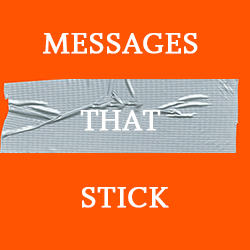 Why do urban legends, conspiracy theories, and bogus public-health scares captivate public attention while truly important messages often fizzle out? Join trainers of the wildly popular "Made to Stick" for this half-day workshop, where you will learn key principles for making your speeches, presentations, emails, and phone calls "stick."
What you'll learn:
The six traits shared by all sticky ideas
How to beat the biggest barrier to effective communication: The Curse of Knowledge
The secret to getting (and holding) people's attention in a crowded environment
How to pack maximum meaning into a simple message
The easiest way to establish credibility (and it's not statistics or experts)
Why stories act as flight simulators for our brain (and how to craft your own flight-simulator story)
Come prepared with an idea to test, or just absorb the knowledge. Healthy and delicious lunch is included, and refreshments will be served throughout the day.
Limited seating. Apply today!
Date and Time
Monday, August 12, 2019, 9:00 - 1:30 pm
Cost
Introductory Pricing $250