What Executives Need to Know 
click to watch the recording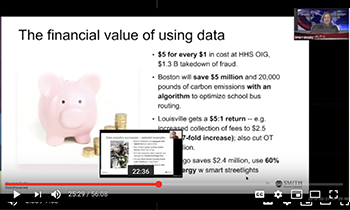 While most companies want to exploit the power of big data, Forrester estimates that only 29% do.  Why the gap? One part of the challenge is that most experienced executives came of age long before big data and need help to confidently navigate this complex new landscape. 
This one-hour free webinar will help managers and senior leaders in public and private sector organizations to understand key concepts of big data and to gain comfort with the terminology and core methods.   After the webinar, managers and executives will be better able to consider how big data could be applied to their business issues. 
More about the presenter:
Jane Wiseman is an Innovations in American Government Fellow at the Ash Center for Democratic Governance and Innovation. She leads the Institute for Excellence in Government, a non-profit consulting firm dedicated to improving government performance.  She has served as an appointed official in government and as a financial advisor and consultant to government. Ms. Wiseman holds a Bachelor of Arts in Government from Smith College and a Master of Public Policy from the Harvard Kennedy School.  
Presenter
Jane Wiseman is a consultant, researcher, and writer focused on government innovation and data-driven decision-making. 
Date and Time
Wednesday, March 27, 2019, 2:00 - 3:00 pm